What's an Unrentable Unit?
We know units become unavailable to rent for a variety of reasons:
Unit is set aside for your personal or business use
A customer left a large amount of debris that will take time to remove
The unit needs repair due to a leak, broken door, etc.
Due to location (extra driveway maneuverability, easy access, etc).
Giving any unit the status "Unrentable" prevents it from being listed as open and available to be rented. You'll still see it on your facility map and can make it available to rent at any time, but you won't inadvertently apply a lease to that unit in the system without changing its status to "Rentable".
To designate a unit "Unrentable":
1. Go to Business > Site Map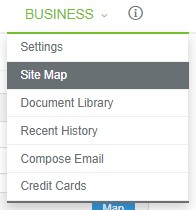 2. Click the

button to the right of your site map
3. Click on the unit, then change the status to 'Unrentable' in the Unit Details box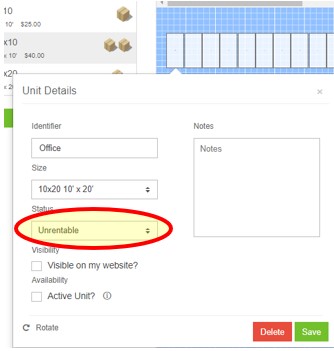 4. Click Save
Ready to make the unit rentable again?
1. Go to Business > Site Map
2. Click the

button to the right of your site map
3. Click on the unit, then change the status to 'Rentable' in the Unit Details box
4. Click Save